To enjoy 'farm to table' breakfast, there has to be a farm!
Farm Fresh Eggs...you can gather 'em yourself!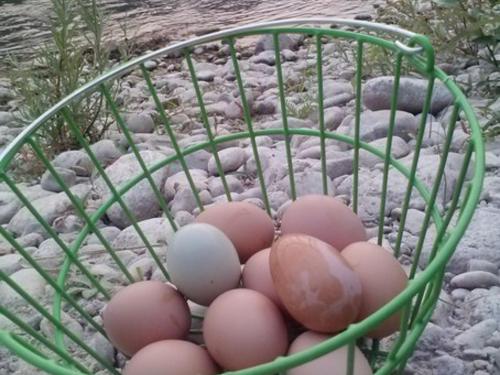 The B&B has an egg production crew that consist of 25 hens: Silver Laced Wyandottes, Golden Laced Wyandottes, Ameraucanas (Easter eggers), Black Australorps, Golden Laced Polish and more. Our eggs come in a variety of colors ranging from white, brown, blue, green or pink. Do you need help identifying these fun breeds? Click here for a downloadable PDF!
Scroll on down and meet the gang!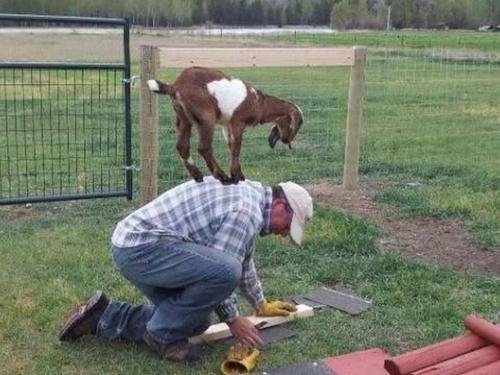 "Tinkerbell", a.k.a. 'Crack Baby is the guests favorite barnyard friend! Tinkerbell is always first to greet the guest and will charm the socks right off your feet! She loves to be held and she loves to be with people. She was born in March 2015 and guest have enjoyed feeding her bottle and watching her grow. (Photo courtesy of K Jones).

Tinkerbell is also quite an acrobat. She has jumping platforms, a see saw, and even a hula hoop. Keep your eye on the barnyard and you might catch Tinkerbell putting on a show!

As one gentlemen put it, "That Tinkerbell has me wrapped around her little finger, well, wrapped around her little hoof!"

As a pure bred Nubian, when Tinkerbell is grown, she will produce a rich milk that is perfect for making homemade butter and cheese.
Sunshine
"Sunshine" is our Saanen milk goat. Named for her relaxed and sunny personality, Sunshine is always ready to greet our guest. Sunshine loves two things: 1. Treats 2. Sparkly things! Keep an eye on your buttons and zippers, she rarely misses something sparkling in the Montana sunshine! Sunshine was born in March 2015. She will produce about a gallon of milk per day. Her milk can be used for cheese, yogurt, and luxurious soap!

Riversong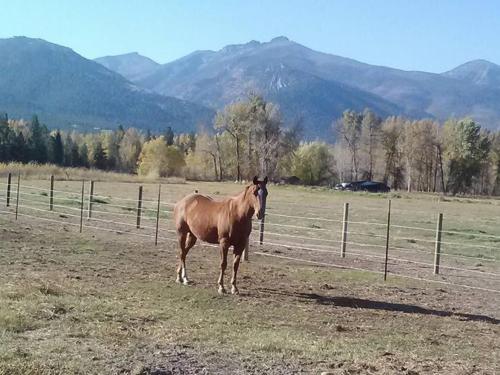 "Riversong" is our quarter horse. She is named for the soft singing sounds she makes when guest visit her in the pasture. Her name also might remind you of a character in one of our favorite TV shows!
Dolly and Delilah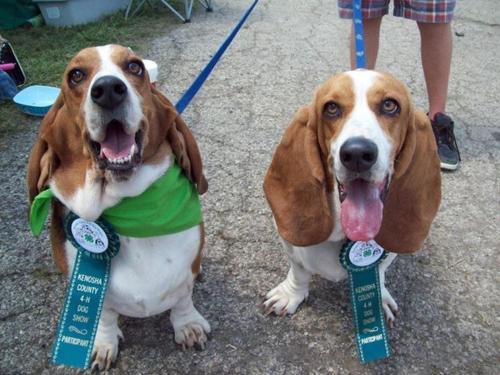 "Dolly and Delilah" are our Basset Hounds. With their long, floppy ears and sad eyes, they make everyone smile! Dolly, has blond ears, the larger chest, and wears the 'Coat of Many Colors'. Delilah is a red headed gal with a mostly black coat. These two always welcome a good belly rub or a snuggle by a cozy fire.
The Golden Nugget Saloon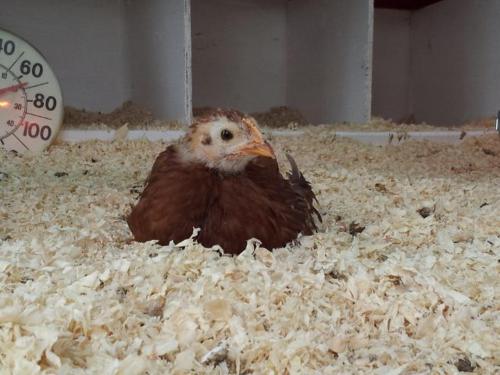 "Scarlett Egg-hara" is our Rhode Island Red. She is a star performer in our wild west production of the "Golden Nugget Saloon". Scarlett is one of 25 hens that call the bed and breakfast home. Scarlett can lay about 350 farm fresh eggs per year! (Thanks, Scarlett!)
"Mountain", named for her majestic size coupled with her 'snow capped peak' headdress, is one of our five Silver Laced Wyandotte hens. She, along with her friends, "Luna, Sweetheart, Cutie Pie, and Ethel" each produce 300+ eggs per year.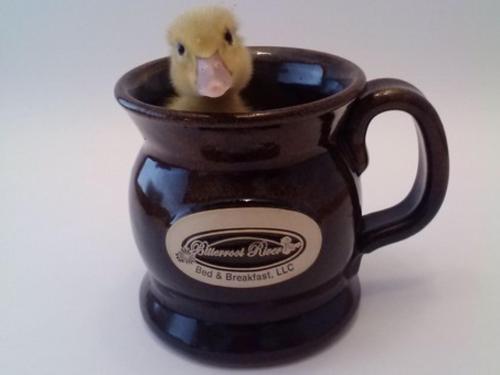 "Kenni" is our buff duckling. The only yellow duck on the farm, she is sure to catch your eye. She is always the first one in line for treats, especially watermelon!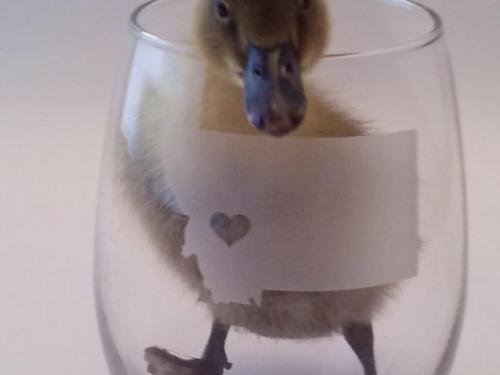 "Huckleberry" is our lovable blue duck! Guest love to feed the all or our ducklings fruit and treats! Huckleberry has a twin sister "Dawn". The two of them are full of silliness!
"Lucky Don" and "Ducky Maria" are our Pekin ducks. These two are born entertainers! Named after some loyal guest, you guessed it, Don and Maria, these ducks 'rule the roost'. You might catch them showering in the fountain, or munching on the flowers.