Building a Miniature Montana Ghost Town
We want our barn to be both, functional and fun! Montana's geography is dotted with old mining towns that were once robust societies centered on the mining of gold, sapphires, and garnets. Our goal is for the barn to pay tribute to the rich history of Montana while providing a fun setting for our guest to enjoy.

Guests have cheered and jeered Kevin along on the barn project. It has been fun to hear the guests demand daily reports on progress when they return from their adventures. Many guests are looking forward to their next stay at the B&B, just to see the progress. We have even been asked if we will host Ghost Town Weddings when the project is complete (Um, maybe)!

We have worked hard to collect recycled materials that reflect the true history of Montana. Our generous friends have donated hours of time and many materials to our project. Progress on the barn has been slow and steady throughout the summer and fall. The pictures below have been taken at various stages throughout the summer.
General Store, Sheriff's Office & Livery Stable
Currently, the barn is completely functional. The General Store is sealed and functioning for hay storage. The jail cells are now closed in and ready to keep Tinkerbell and Sunshine warm for the winter. (If you have met Tinkerbell, a.k.a. Crack Baby, you know why she is kept in the jail cell!) Friends recently helped hang the door on the Livery Stable, so Riversong will has a warm, dry escape from the winter winds.

The goat "jail" is all sealed for winter. The old miner and the cowboy will entertain guest until summer returns and we can see Tinkerbell looking through the jail bars once again!

This is a view of the progress of the backside of the barn. Riversong's stall has a sliding door that can be closed on snowy nights. You can also see the small exit on the goat stall.
Golden Nugget Saloon and Dance Hall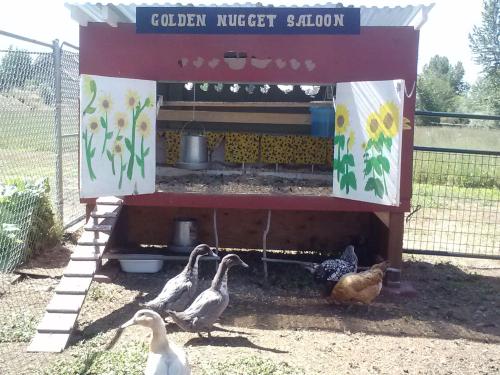 The Golden Nugget Saloon and Dance Hall is home to the B&B "painted ladies or soiled doves" a.k.a. our laying hens. The coop features 8 nest boxes and two roost bars. The coop is well sealed to protect the hens from predators while allowing for excellent ventilation. Removable window panes allow for cool summer breezes to provide comfort on hot summer days. The green house roof allows the winter sun to warm the coop nicely on cold winter mornings.
Town Hall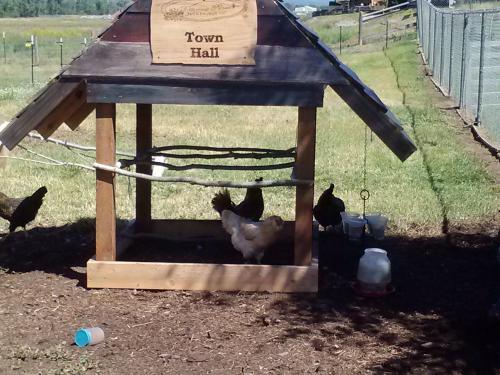 The Town Hall is the gathering place for the hens. The Town Hall provides an outdoor shade area in summer. Three layers of roost bars will provide dry roosting areas for hens during the snowy Montana winters.